The problem with putting paid work on hold last month was I had to do a fair amount of paid work this month, which is fine but it did distract me from the last couple of weeks of the installation, and already it's time for it to go.
It's been an interesting experience, all told. I'm happy with it, but in a guarded, aware that I could do much better but must walk before I run kind of way. I'm so glad I found that Ira Glass quote before all this as I feel I'd have been a lot harder on myself.
You'll also note I've changed the name and URL of this site from ttvpete.com to art-pete.com, the exact reasons for which I hope to go into more details later but suffice to say I'm feeling slightly restricted by the photography label. It's an important part of what I do but it's a tool and tools shouldn't dictate ideas, at least not too much. For my next project I want to collect and display found pieces of rusty metal. No TTV involved in that. All old links will still work so don't worry on that front.
So yes, it's coming down and, as expected I could do with some help. Mostly Claire and I have got it covered but there's one weak spot, and it ties into some really good news.
The 50-odd monitors are staying in Birmingham! Our generous supporters at Pure Planet Recycling have said they're not bothered about having them back so the hunt was on for somewhere to store them. Leon Trimble has come to the rescue with the Rea Garden on Floodgate Street, Digbeth, where we can keep them out of the rain. They'll need a better home in the long term but that's not so urgent. This means if you're planning something that could use multiple monitors there's a go-to place to get them. Antonio has an idea for a glitch show and of course Leon has far too many notions. I might even do the viewfinder thing again.
The issue is we need some help unloading them. The van will be at the Rea Garden around 2.30 - 3.00pm on Friday. If you can spare an hour and are in the area I'd really appreciate the help as the driver is doing us a favour and needs to shoot off sharpish.
This is the entrance to Rea Garden: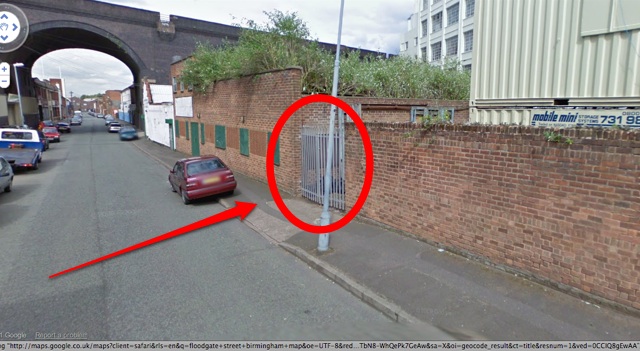 And here's a map: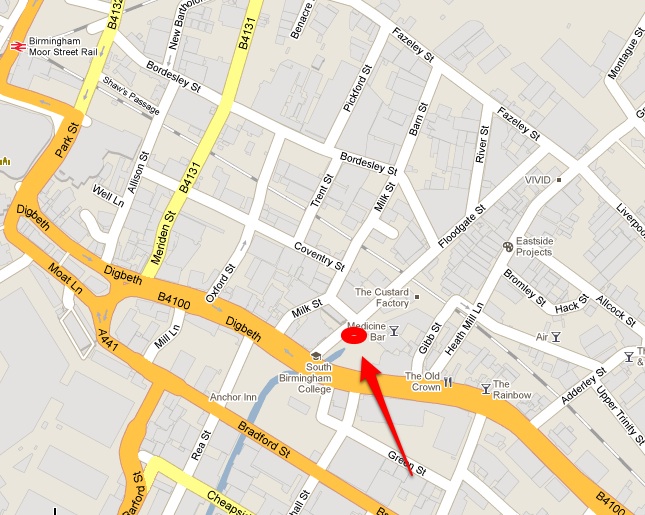 If you can help please drop me a txt to 07775 690 106 and I'll keep you posted. I'm thinking of you nice people who work in the Custard Factory / Fazeley Studios and could do with a little bit of exercise in the fresh air.
And I'll be eternally grateful. Again.