In June I ran a series of workshops for the Cadbury College AS Level Photography class. These went rather well and pushed me towards running one with Birmingham's emerging hackerspace FizzPop.
We have a venue, have settled on a price and a date and are now taking bookings. Yay!
The 3 hour workshop will take place at 10am on Saturday September 10th at Faraday Warf, Aston Science Park. It costs £16 per person (£10 to me, £5 to Fizzpop's fund and £1 for admin). Book tickets:
Here's the blurb I threw together
Come and learn about Through The Viewfinder photography and make your own contraption at Fizzpop's TTV Workshop.

Local artist-photographer Pete Ashton has been shooting TTV photos since discovering the technique in 2006 and offers you the chance to make your own. Not only will you have a weird-assed hunk of vintage camera, cardboard and gaffer-tape to point your camera through, you'll also learn interesting and exciting things about the very nature of photography.

Thrill to the possibilities of analogue manipulation of images before they hit the camera sensor!
Gasp at the shocking idiocy of the Auto setting!
Shudder at the creative possibilities of limitations!
Wonder at the improvement in your composition through slowing the hell down!

You'll learn the how and why, built your own contraption, shoot some photos, process and review them and go away ready and able to join the Experimental Photography Community.
The three hours will run like this:
Introduction to TTV and DIY photography (presentation)
Making the Contraptions. (workshop)
Shooting (out and about)
Processing (workshop)
Rinse and repeat
To get a better sense of what I'm intending you'll achieve in this workshop read my report on the Cadbury College sessions. Here's a photo of the students at work.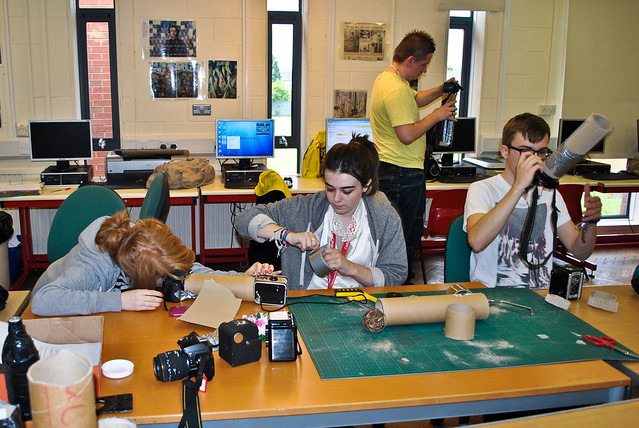 ---
Some notes, which I may add to over the next month.
You'll need a digital camera that has a macro setting / close-up lenses. The optimal length for a TTV contraption is 30cm, give or take, so try taking a photo of something a foot away.
Bring the necessary USB cable / card reader to get your photos off as we'll be processing them on the day.
You'll need a vintage camera to take photos through. Ideally this will be a Duaflex or similar. I can sell you one for £20 or you can get one on eBay. They look like this:
It's the square of glass at the top that is the important part.
If you haven't got or can't afford to buy one I can lend you a camera for the day.
We will be doing some processing of the photos on computers. There'll be a few spare laptops and feel free to bring your own if you'd prefer.
Children are welcome with parental supervision. Id suggest this is suitable for aged 13 an above but am making no guarantees. There will be slicing of cardboard with knives and photography outside. Please contact me.
---
If you have any questions at all, please get in touch.