Back from the Easter break and I had a couple of specific tasks to do in the basement. The first was to test the 1:8 VGA splitters I'd gotten from a Chinese eBay seller for £18 each. They'd arrived in the post this morning and looked the business but I'd only be sure once all ports were plugged.
All worked perfectly and I was very pleased with the results. A much stronger signal and brighter images, as seen in this video.
I immediately left good feedback and ordered a couple more.
Next I wanted to start mass producing cones for the viewfinders. I did a tally of what size screens I've got and the most common is 32x24cm with the videos I'll be being a third of that height. So, to be on the safe side, I'm looking at an aperture of 32x14cm at the screen end. For the viewing end I went with 14x6cm because it felt about right.
The first attempt was a failure due to poor geometry on my part but I soon had a system in place and will be able to pump these out once I have enough cardboard. I also wanted to explore how they might fix to the monitors without blocking the ventilation (very important, this) and how they might be positioned for optimal viewing. Here's a couple of shots plus a video.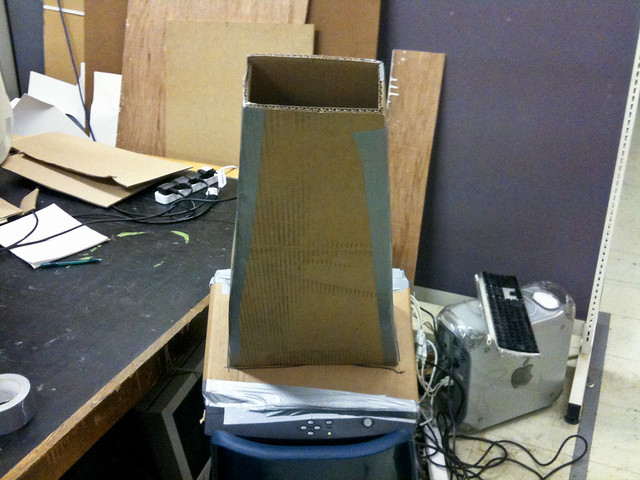 Along with the longer cone built last week I think I've got the basics in place now, and with the basics in place the work itself is starting to take shape in my mind. Let the game begin.