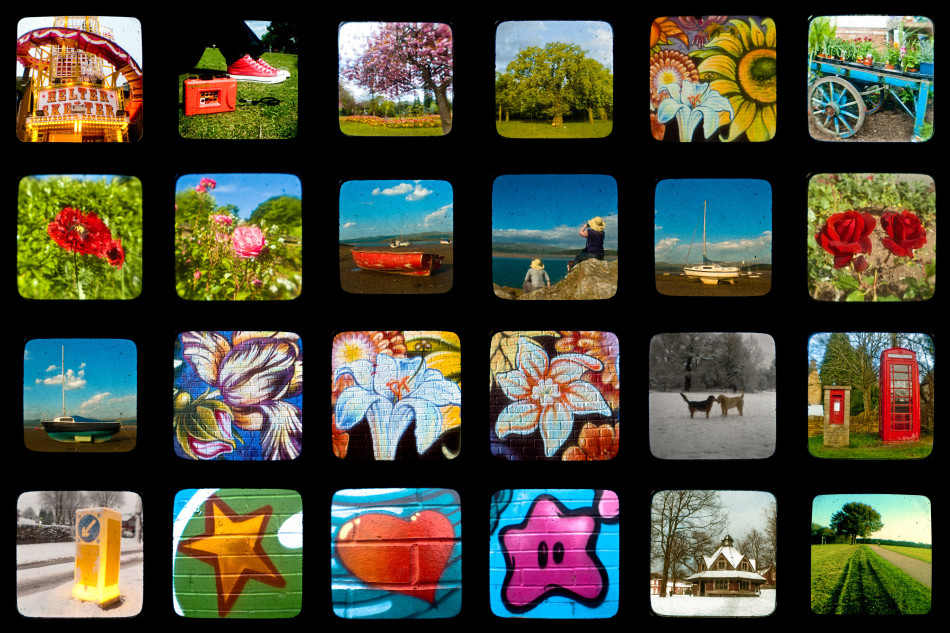 In 2006 I came across a new way of taking photos. At an early Birmingham Flickrmeet, Stuart Parker was wielding a cardboard tube with an old camera stuck at the bottom. He poked his digital camera in the slot and clicked away. Later we saw his photos on the Flickr group and next month half the group were wielding these contraptions.
Through The Viewfinder, or TTV, was invented by an American going by the name of "Mr E" (who has since dropped off the radar). Around 2005 noticed the viewfinder of vintage cameras had interesting distortions which, when photographed with a digital camera, made for interesting images. He stuck a few on Flickr, others copied him and the TTV group was formed. In time the technique became fairly widespread but, thanks to Stu's early involvement and the Flickrmeets, Birmingham probably had the greatest concentration of TTV practitioners for a while. For more on the history and practice of TTV see Russ Morris' tutorial.
For me the technique scratched two itches.
Firstly it got me away from the need to make "perfect" photos. While I loved digital photography for the possibilities it gave me, I was becoming bored with how it drew me towards making pixel-perfect images. Photos could be degraded in Photoshop or Lightroom by increasing contrast and mimicking film, but that was too intentional. I didn't want that control. I wanted the ghost in the machine to make the image, and for me to learn how to work with that. TTV gave me that ghost.
The second itch was my need to make things with my hands. I've never been a craftsman by any stretch but I do like hacking at things with tools. TTV needs a contraption to hold the two cameras at the right distance and block out light and making that contraption is as much a part of the process as taking the photos.
It also put me in a small community of photographers who were scratching the same itches, which given my lack of connection "normal" photographers was immensely helpful. I felt at home.
My first contraption was a Fuji Finepix bridge camera, retired from everyday use, attached to a Kodak Duaflex II.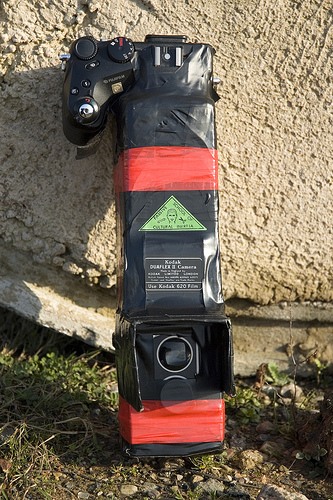 I shot with this from 2006 until December 2009 when I slipped on the ice and broke the Fuji. Because a contraption is build to the optics of the top digital camera this contraption was now useless and I retired it. My 2010 exhibition, Homage To Contraption, consisted of every photo I had taken with these cameras mounted on a five metre board.
This marked a useful break in my process as I had to make a new contraption for my Nikon which give me much more control and a different aesthetic. Throughout 2010 I pushed the TTV technique further, developing the "grids" which became a trademark.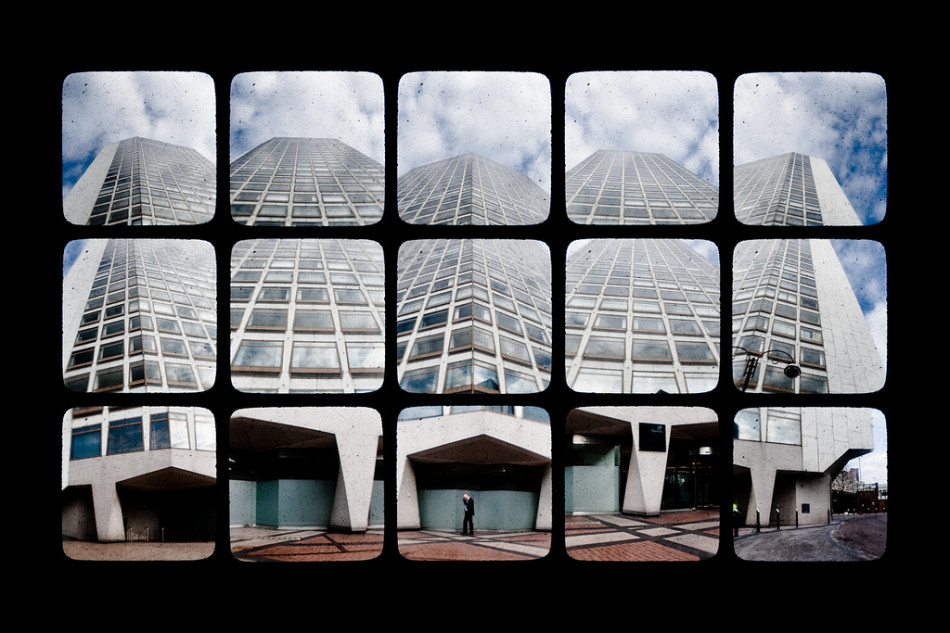 Also during 2010 I embarked on a series of markets, selling prints of my work at art markets throughout Birmingham. I secured a regular pitch at the Moseley Art Market and was a regular at the Handmade markets in the centre of Birmingham. I also had an Art On The Railings pitch at Artsfest. I also sold my work at the Created in Birmingham shop in the Bullring I was managing with Chris Unitt.
While my sales as TTV Pete broke even, it didn't pay me a wage, and after a year I decided to stop. But the experience was immensely valuable in a number of ways.
A case in point for the last one, during a horrible snowy market I had a go at making low frame-rate movies using the contraption. I stitched three of these together and made a moving triptych.
Following on from other experiments in TTV movies this triptych took my dominant style of photography, the grid, to a new place. This lead to being asked to exhibit in the Dead Space show at Birmingham Library by Claire Farrell of EC Arts. I showed new moving triptychs in a custom-built sculpture of monitors, cardboard and duct tape.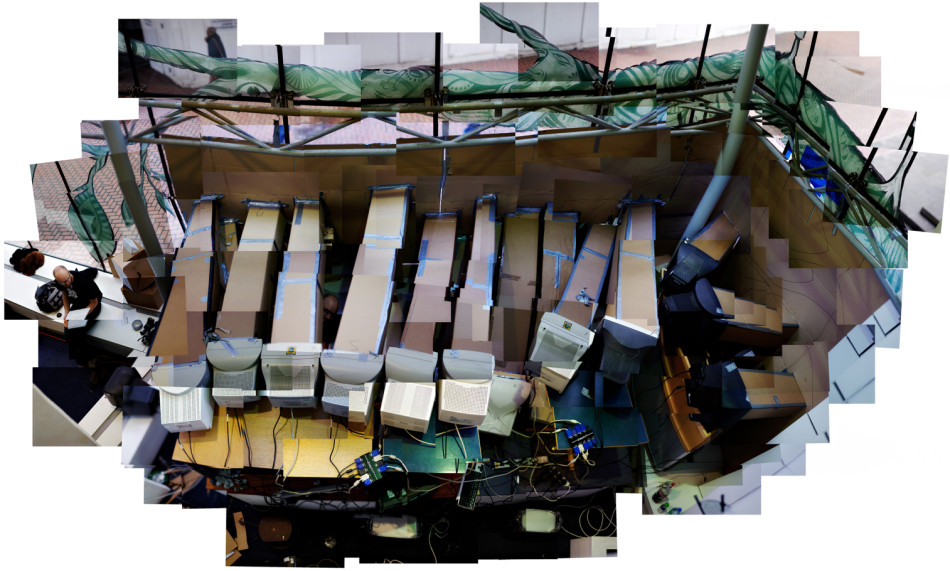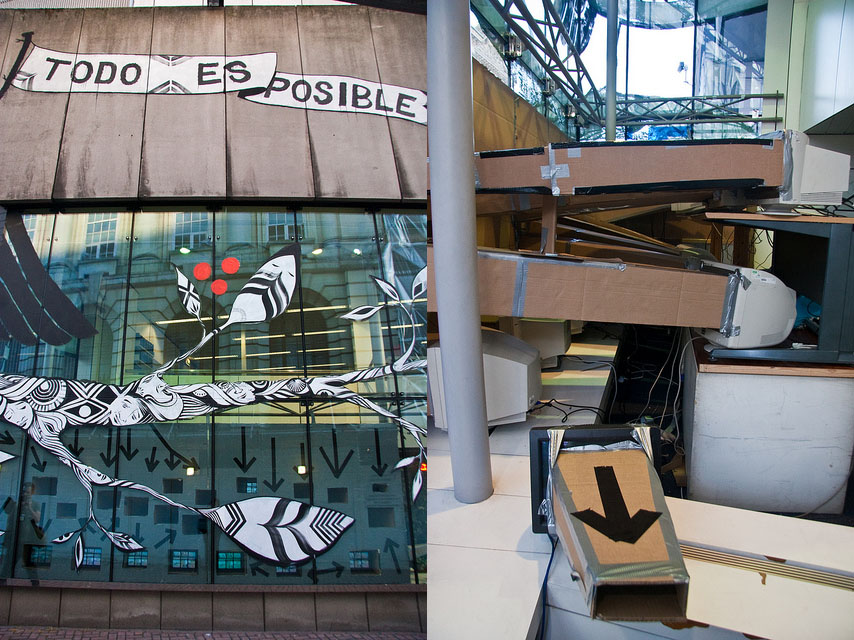 This experience stretched me artistically and it took a long time to not see it as a failure in many ways. I felt I had become distracted by the form, the structure, and not thought about the content. But ultimately it was a positive experience, pushing me out of my comfort zone and forcing me to think of my responsibility to the audience.
It also had the side-effect of ending my TTV practice. To make the movies I took tens of thousands of photos and soon after the shutter on my Nikon D70s gave out. The contraption didn't work with my new D7000 and, feeling the tool had become an aesthetic crutch, I decided to stop. TTV Pete became Art Pete, the remaining prints were sold off and a new chapter stumbled around in the dark.